The Giving Tree by Shel Silverstein is one of the most poingant books about the nature of sacrificial love that exist for children.  In light of Valentines Day, I thought a lunch inspired by The Giving Tree was in order.
Creating The Giving Tree lunch
Ingredients used:
Frozen or canned peas – about 6 oz
2 oz meat (pulled pork, rotisserie chicken, lunch meat, etc)
1 strawberry
1 slice of white cheese
1 pretzel
Thaw some frozen peas or use some canned peas and heat in a small glass bowl in the microwave.  Next, take some meat – I used leftover pulled pork, which was beautiful for texture, but you could use lunch meat, rotisserie chicken, or even sandwich bread – and form the trunk.  Before placing the peas on the plate, heat the meat in the microwave, about 30 seconds.  Remove the plate, add the peas to the top, and you have a beautiful tree that looks like the Giving Tree from the story.
Next, create the little boy.  I sliced a strawberry in half and sliced into it to create the shoulder straps and shorts.  Next, I took a slice of mozzarella cheese and made his hands, legs, and head.  I added a tiny currant (small raisin) for his eye, and made his hair out of several pretzel bits.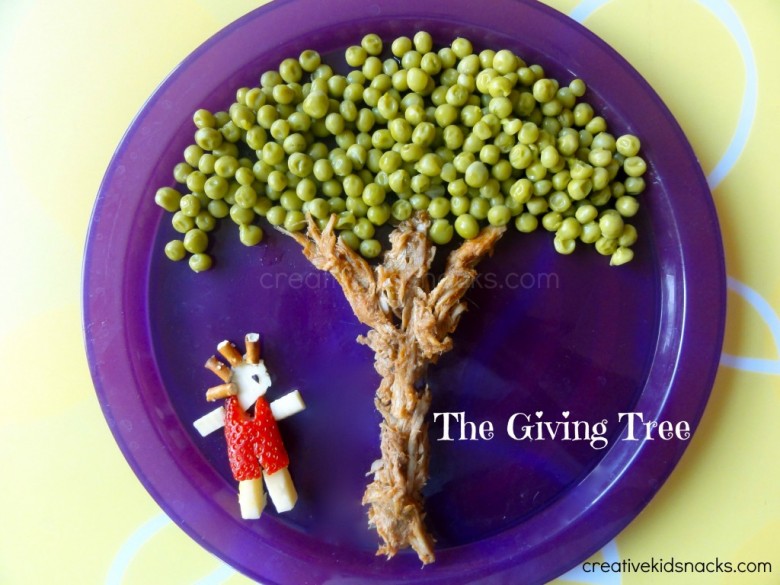 Talking about LOVE using The Giving Tree Story
The Giving Tree has lots of implications about what it means to love.  It is quite interesting to find out whether your child picks up on these themes as you read the story.  Following are some before, during, and after reading ideas.
Before reading:
Ask your child ways people can show others that they love them.  (They might give you ideas like hug, give a gift, say "I love you", etc.)
Ask your child how they know that you love them.  What makes them feel loved?  (This will indicate your child's "love language")
During Reading:
After reading the lines, "and the tree was happy", ask your child why the tree was happy.
After reading the lines, "and the tree was happy.  But not really", as your child why the tree wasn't really happy.
After reading:
Discuss which character in the story showed love better.  Why?
Talk about how you love your child no matter what happens.
Ask how the boy could have shown love to the tree.
Think of ways your child can show love to others today.
Have a wonderful Valentines Day.  If you need some other ideas for this special day, check out our "Heart Warming" Oatmeal, Valentines Day Pancakes, Guess How Much I Love You?, Valentines Day Apples, and I Love You yogurt snack.
(Sharing at Kitchen Fun with my 3 Sons and Sun Scholars)