Lots of kids love Daniel Tiger's Neighborhood on PBS and Sprout.  The show teaches kids valuable life lessons using simple songs repeated throughout each episode by the characters as they learn a lesson about life.  Many of my friends have children who watch the show, and I know of several people planning a Daniel Tiger themed birthday party for their child's next celebration.
Healthy Ideas for a Daniel Tiger Birthday Party
Daniel Tiger Clementines
Kids love to eat clementine oranges.  Make these cute little Daniel Tiger oranges by using a black food marker to draw Daniel Tiger's face onto each orange.  Start with the eyes, making little arches, then add the eyeballs, nose, whiskers, and mouth.  Draw ears where they are still visible when looking at the orange straight on, and, lastly, add some tiger stripes.  Daniel has three on his forehead and two on his cheeks.  Here's a closer look:
Clementies are packed with Vitamin C, and are a great healthy item to put out at a Daniel Tiger Birthday Party.
Katerina KittyKat Bagels
Use mini bagels for kids, or even English muffins as they are a great size and nicely thin – to make Katerina Kittykats.  Spread cream cheese over each bagel, then take a good knife and slice out two ears and the top of her head from the top of the bagel.  Next, slice some green grapes into thin sections, and slice the bottom section off of the oval you will have after slicing.  Lay that onto the bagel for the base of Katerina's eyes.  Next, add small raisins or dried blueberries to look like Katerina's eyes.  For her nose and mouth, Add thinly sliced bits of a red apple.  Slice a thin section off of a red apple, then cut a triangle and two thin strips and lay onto bagel to look like Katerina's nose and mouth.
Prince Wednesday's Castle
I have shared this castle in the past on this blog as a great idea to make for a Princess themed birthday party, but it would also be great to serve with a little sign in front of the tray that says "Prince Wednesday's Castle".  Simply make a simple turkey sandwich, (or PB&J's to make it easy for a birthday party), and slice little squares out of the top of the sandwich.  Finish the look by adding some cheese on top to look like doors and windows.  If you are serving a larger group, you can skip the flags all together, or use some toothpick flags for a cute presentation.
Prince Wednesday's Crown
These little guys are also from my Princess Birthday Party post, but here is how to make them.
Simply purchase a package of sliced cheddar cheese.  Use a firm cheese, (so not packaged American cheese) so that you will be able to cut it into the shape of little crowns.  I made 6 little crowns to show you, and for those I only needed 3 cheese slices.  Lay 3 slices on top of each other, then slice in half.  Next, on one stack of 3 halves, take your knife and slice little triangles out of the tops.  Carefully separate.  Repeat with the other 3 halves, and continue until you have the desired amount.
More Awesome Daniel Tiger Party Ideas
Easy and pretty Daniel Tiger Pretzel Rods from PBS Parents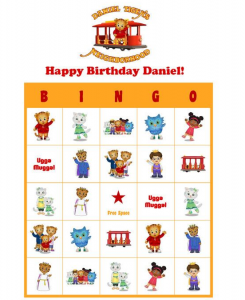 Daniel Tiger's Neighborhood Bingo Cards from TrulyBillEve on Etsy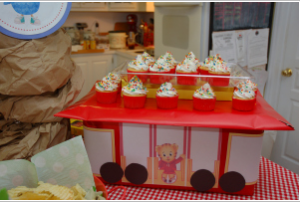 I like the idea of serving the food atop a table decorated like the trolley like this mini version from Life at Third Creek Cottage.  You could decorate a large table to look like a trolley by using a large white box or poster boards and drawing the trolley wheels and red dividing columns.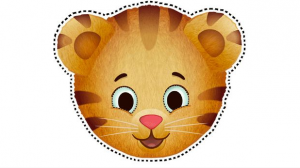 Daniel Tiger Masks from PBS Parents
If you enjoyed this post, you might like to check out our other TV Show inspired food, along with our other Birthday Party themed food ideas.