What little girl doesn't love princesses?  There's princess Belle, Cinderella, Snow White, and all of the other Disney princesses, along with the fun of dancing around the living room wearing your princess crown.  My girls own several dress-up gowns inspired by the Disney princesses, and love wearing them around the house.
Today, we are sharing some princess birthday party food ideas for a facebook fan planning her daughter's upcoming event.
Princess Party Food
Cheese Princess Crowns
Simply purchase a package of sliced cheddar cheese.  Use a firm cheese, (so not packaged American cheese) so that you will be able to cut it into the shape of little crowns.  I made 6 little crowns to show you, and for those I only needed 3 cheese slices.  Lay 3 slices on top of each other, then slice in half.  Next, on one stack of 3 halves, take your knife and slice little triangles out of the tops.
Carefully separate.  Repeat with the other 3 halves, and continue until you have the desired amount.
Princess Castle Sandwiches
Serve these little sandwiches shaped like castles.  Simply make a simple turkey sandwich, (or PB&J's to make it easy for a birthday party), and slice little squares out of the top of the sandwich.  Finish the look by adding some cheese on top to look like doors and windows.  If you are serving a larger group, you can skip the flags all together, or use some toothpick flags for a cute presentation.  These castle sandwiches are perfect little accompaniments to your tea.
Royal Jewels
A simple and easy idea (plus a good way to incorporate fresh fruit into your princess party), is to serve mixed fruit in a bowl and label it "Royal Jewels".  Super easy, right?
"Tea Time" Drinks
Serve your drinks in a tea set and label it "Princess Tea Time".  The princess party guests will love sipping their drink from a special princess teacup.  If you don't feel like risking using the ceramic ones, go with the plastic kids set.  They will love it, and the castle "tea sandwiches" will be perfect alongside!
More Princess Party Ideas:
Princess Parties: Kara's Party Ideas
Pinterest: Princess Parties Search
And now it's time for the Weekly Kids Co-op!
As moms, we are constantly on the lookout for great teaching tools and resources to use with our children.  I know I always benefit from seeing the creativity of others as they share lessons, activities, crafts, food, and more in their various blogs.  Mommy bloggers have become popular for a good reason: information is power.  Right, ladies?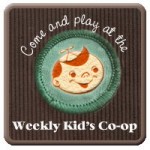 The Weekly Kids Co-op is one of my very favorite such resources.  I have been linking my snacks to this link party for months now, and I am excited to be able to co-host it here at Creative Kid Snacks.
If you are a blogger, link up your kid related posts to share with all of us eager beaver mommas.  If you are a mom, take some time to look through all of the great ideas for teaching and playing with our kids.  Pin what you love.  Like I said before, information is power!
This party will take place every Thursday at Creative Kid Snacks.  You will find it hosted on several other blogs, but the days the party goes live will vary from blog to blog.
Get ready for all the great ideas!  Link, share, and enjoy!