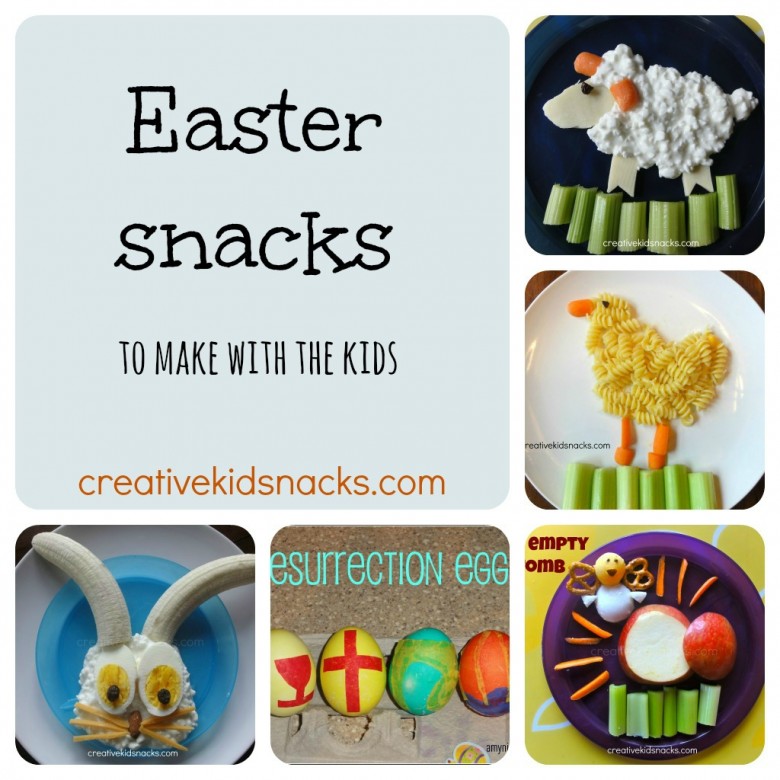 Easter is coming!  Easter has always been one of my favorite holidays to celebrate.  How about some cute snacks for this special season?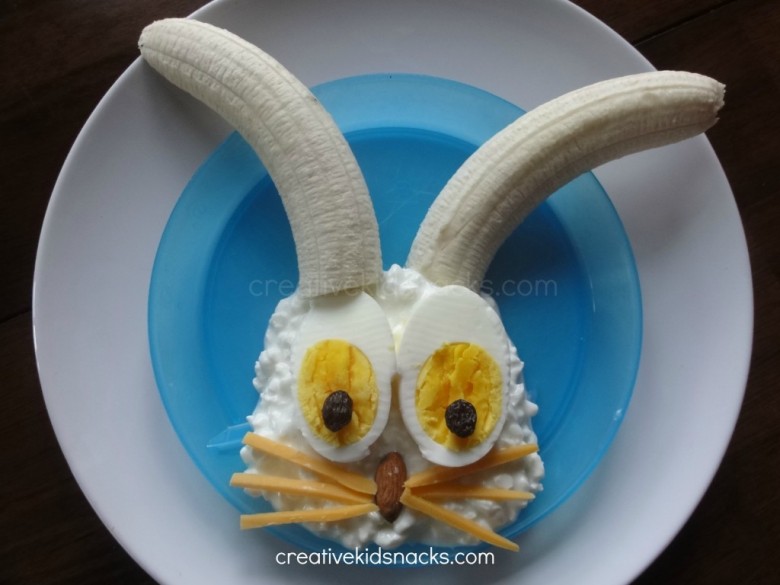 I don't think this bunny has ever been posted on Creative Kid Snacks, we made it over a year ago.  This little guy has bananas for ears, a cottage cheese face, hard boiled egg slices for eyes, an almond nose, cheese whiskers, and raisin eyes.  Cute and filling for the kiddos!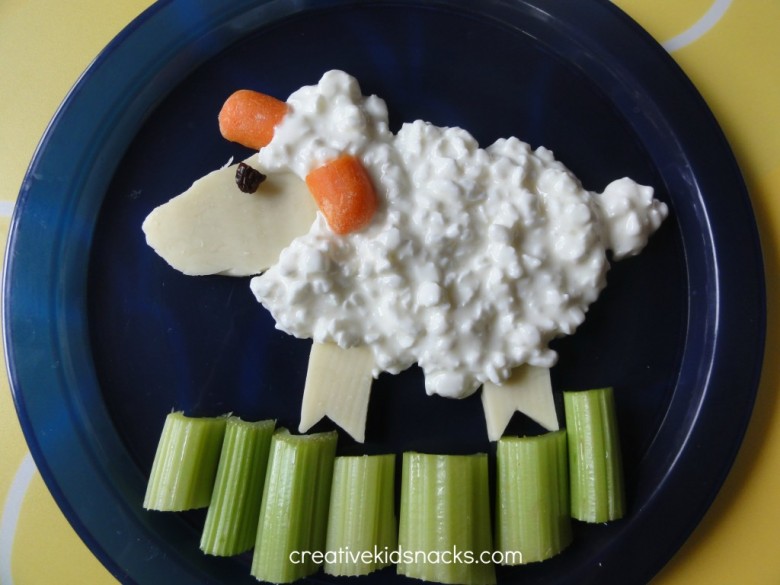 This little lamb is a perfect spring time, Eater-y alternative to the bunny.  It's a fresh and fun lunch.  Check out how to make it here.
My daughter actually requested to have make a Jesus on the Cross plate on Good Friday.  Although it may sound strange, it was a great way to remember and celebrate what Jesus has done for us.  It was her way of honoring that special day, and, just like a pendant on a necklace or an illustration in the kids Bible, this is one more way this event is portrayed.  See our post about it here.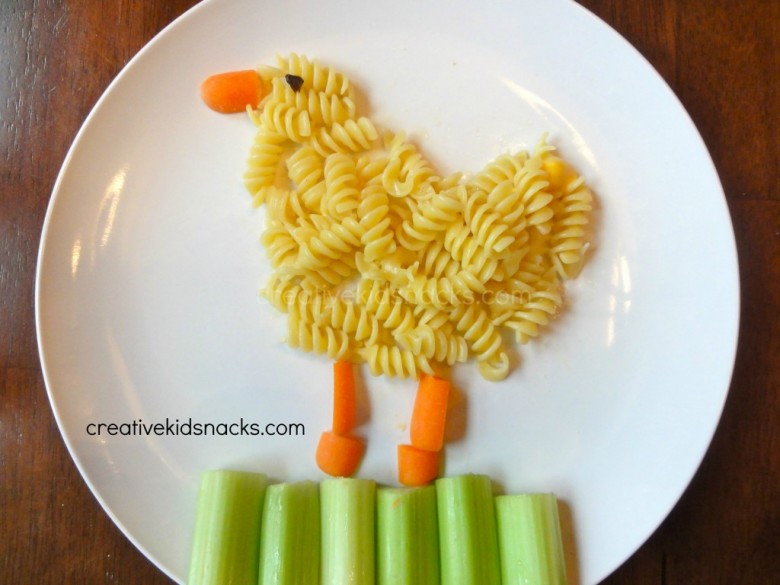 This chick is another one that has not been posted on CKS.  We made our chick out of cheesy pasta, added carrot feet and a beak, a raisin eye, and some fresh celery for grass.  Easy, adorable, and delicious!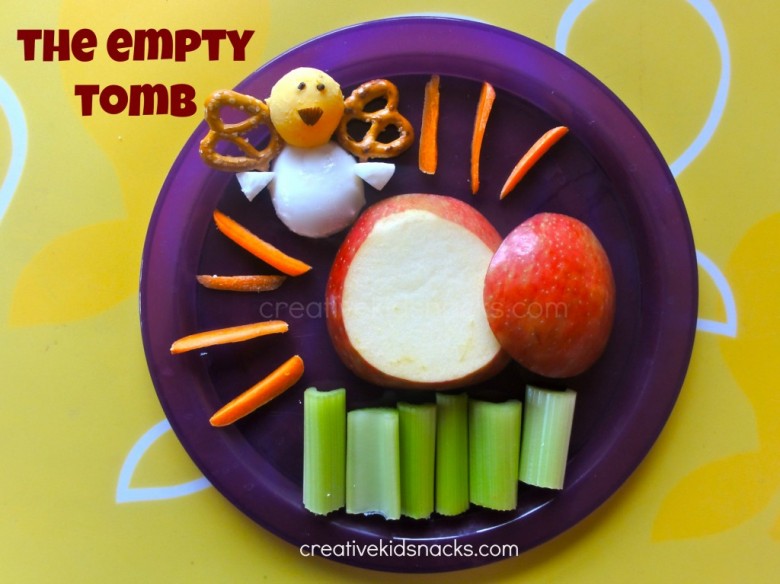 Tell the true story of the meaning of Easter with this snack – the Empty Tomb.  Check out our post about it here.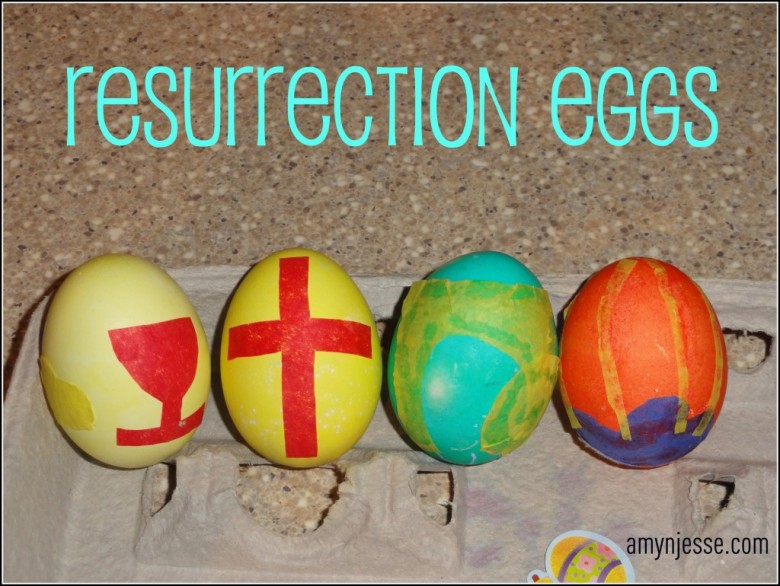 I highly recommend making these four special eggs this year as you color your eggs.  You can tell the whole story of Easter, and each egg has its own directions and explanation.  Check out all the directions here.
(Sharing HERE)
Did you enjoy today's snack?  Learn more about this blog here.
And now it's time for the Weekly Kids Co-op!
As moms, we are constantly on the lookout for great teaching tools and resources to use with our children.  I know I always benefit from seeing the creativity of others as they share lessons, activities, crafts, food, and more in their various blogs.  Mommy bloggers have become popular for a good reason: information is power.  Right, ladies?
The Weekly Kids Co-op is one of my very favorite such resources.  I have been linking my snacks to this link party for months now, and I am excited to be able to co-host it here at Creative Kid Snacks.
If you are a blogger, link up your kid related posts to share with all of us eager beaver mommas.  If you are a mom, take some time to look through all of the great ideas for teaching and playing with our kids.  Pin what you love.  Like I said before, information is power!
This party will take place every Thursday at Creative Kid Snacks.  You will find it hosted on several other blogs, but the days the party goes live will vary from blog to blog.
Get ready for all the great ideas!  Link, share, and enjoy!