Today's lunch takes almost no time to prepare, and features foods that all kids love: peanut butter sandwich, string cheese, and goldfish.
As we all know, the aforementioned aren't the most healthy foods in the world, but they are being served in moderation here, and I will share with you a couple secrets on how to make even a peanut butter sandwich more healthy.
Ingredients:
1 slice whole wheat bread
1-2 T homemade peanut butter (see below)
1 piece string cheese
1 grape
1 goldfish
1 pretzel stick
1 strawberry (or other small fruit for a hat)
Create your Gone Fishin' Lunch:
Today's lunch features a boat that is half of a peanut butter sandwich.  Because I always like to strive to feed my kids the healthiest possible version of their food that I can, I'm going to show you something I just about when I purchased our awesome new toy – a Vitamix.
Make your own peanut butter:
You can make your own peanut butter if you have a Vitamix or a food processor.  When you make it yourself as described below, you avoid all of the extra sugars and hydrogenated oils found in even the "healthiest" brand name peanut butters.
Combine 1 jar of lightly roasted peanuts with several handfuls of almonds (raw, roasted, unseasoned) and set the Vitamix to high for a minute or two.   I bought lightly roasted because they have great flavor for turning into peanut butter and they also have less additives than regular roasted peanuts.  You can also add any other kind of nut you would like to this mix.  Just choose nuts that are not highly processed so that you will avoid that extra salt, sugar, and other chemicals and keep that great nutritional value.
Once you are done, you will have warm, delicious peanut butter with fantastic flavor and so many less ingredients to serve to your kids.
Next, you will slice the string cheese in half width-wise.  Place one half on top of the "boat" to be a fisherman.  Peel thin strings from the other half and use them to place beneath the boat for waves.  Use one thin string for the fishing line.  Place two thin strips of cheese on either side of your fisherman's body for arms.
Add a pretzel for a fishing rod.
Next, slice a red grape, blueberry, or other dark fruit into small strips.  Arrange two of them to look like a hook at the bottom of the fishing line.  Use two tiny bits of that same fruit for your fisherman's eyes.  (If you have a food marker, you may also use that to draw your man's eyes and smile).
Place a goldfish near the hook, and you are done!
(Sharing HERE)
Did you enjoy today's snack?  Learn more about this blog here.
And now it's time for the Weekly Kids Co-op!
As moms, we are constantly on the lookout for great teaching tools and resources to use with our children.  I know I always benefit from seeing the creativity of others as they share lessons, activities, crafts, food, and more in their various blogs.  Mommy bloggers have become popular for a good reason: information is power.  Right, ladies?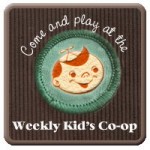 The Weekly Kids Co-op is one of my very favorite such resources.  I have been linking my snacks to this link party for months now, and I am excited to be able to co-host it here at Creative Kid Snacks.
If you are a blogger, link up your kid related posts to share with all of us eager beaver mommas.  If you are a mom, take some time to look through all of the great ideas for teaching and playing with our kids.  Pin what you love.  Like I said before, information is power!
This party will take place every Thursday at Creative Kid Snacks.  You will find it hosted on several other blogs, but the days the party goes live will vary from blog to blog.
Get ready for all the great ideas!  Link, share, and enjoy!