After the 4th of July comes and goes, summers for me have always taken a speedy nose dive into fall – which means back to school.  I suppose that being a school teacher before staying home with my girls has continued to remind me of the ever-repeating school cycle.
This fall, my oldest will be heading to kindergarten (Sniffle)!  Actually, I'm really very excited for her.  I know she will thrive in school setting; she absolutely loves to learn and loves making new friends.  I'm thankful to have reasons to actually look forward to her being able to start school!
In honor of the start of a new school year, we have a back to school snack for you today!  Make this snack the day before school begins, or after the day is out, whichever you feel like!
Ingredients:
1 slice of colby jack or cheddar cheese
1 tbsp jam (spooned into plastic baggie for piping)
2 slices banana
1 small section of apple
Directions:
Slice cheese into a rectangle, then slice corners off of the top of that rectangle as shown above to use as the main body of the bus.  Next, slice a small square with a corner sliced off to place at the front of the bus.  Add 2 banana wheels.  Take a small plastic bag with jam inside, snip off a tiny corner of the bag, and pipe two lines accross the bus as shown.  Next, pipe small dots of jam onto bananas to look like wheels.  Finally, slice a section of an apple into several small thin squares.  Arrange on bus to look like windows.
In the version shown above we placed the apples skin side down.  If you like, you could also serve the snack with the skin side up, as shown here:
Which version to you like better?  Let the kids decide!
Other Back to School Snacks We Love:
We've also scoured the great world of the web to find some other back to school snacks that are sure to get the kids excited for fall!
Click on either the photo or the title to be taken to the source for directions on how to make each awesome treat.
Back to School Party (includes all kinds of cute food)
One of my favorites from the Back to School Party
Giant School Bus Chocolate Chip Cookie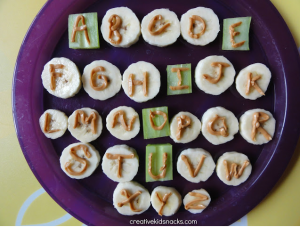 What other cute ideas do you have for celebrating the start of school?  Leave your links in the comments below!  I'd love to add them to my Pinterest boards for future inspiration!
(Sharing HERE)
Did you enjoy today's snack?  Learn more about this blog here.