We are all about teaching kids to LOVE eating healthy foods here at Creative Kid Snacks, and one way we do that is by presenting them in fun ways.  I can't tell you how many new foods my daughters have tried (and eaten all up), because it was included in one of their "creative lunches".  These are foods that they would never choose to eat on their own.
Oscar the Grouch is the perfect character to turn into a super healthy lunch for the kids.  He's green, brown, and white, and lots of nutrient packed foods can be used here to make him.
I'd like to show you the version we made the other day, and then offer other suggestions for you to try.
We used the following ingredients for the Oscar shown here:
peas – canned or frozen (thawed, heated)
cheese – any white cheese cut into circles for Oscar's eyes
black olives – approximately 6 sliced
pulled pork – leftover from sandwiches served the night before
Arrange all ingredients on a small plate as shown to make Oscar's face.  Super simple!
Variations:
Perhaps you are looking for a way to serve some of the following foods to your kids.  Try these in an Oscar!
Face:
Broccoli
String beans
Edamame
Softened avocado
Green grapes
Green apple slices
Eyebrows:
Rotisserie Chicken
Grilled Chicken breast sliced
Ground Beef
Pulled Beef
Ham
Mouth/Eyeballs:
Raisins
Blueberries
Eyes – Whites:
Hard boiled egg sliced
Cottage Cheese
Yogurt
Hopefully you can make your own super healthy Oscar soon!  Next time I try this, I'm going to use this:
(Sharing HERE)
Did you enjoy today's snack?  Learn more about this blog here.
And now it's time for the Weekly Kids Co-op!
As moms, we are constantly on the lookout for great teaching tools and resources to use with our children.  I know I always benefit from seeing the creativity of others as they share lessons, activities, crafts, food, and more in their various blogs.  Mommy bloggers have become popular for a good reason: information is power.  Right, ladies?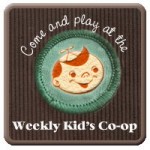 The Weekly Kids Co-op is one of my very favorite such resources.  I have been linking my snacks to this link party for months now, and I am excited to be able to co-host it here at Creative Kid Snacks.
If you are a blogger, link up your kid related posts to share with all of us eager beaver mommas.  If you are a mom, take some time to look through all of the great ideas for teaching and playing with our kids.  Pin what you love.  Like I said before, information is power!
This party will take place every Thursday at Creative Kid Snacks.  You will find it hosted on several other blogs, but the days the party goes live will vary from blog to blog.
Get ready for all the great ideas!  Link, share, and enjoy!