It's time for another party ideas post!  This time, we are helping Deena, who is hosting a Peter Pan / Pirate themed birthday party.
There are so many great ideas out there, and most of them are adorable, tasty, sweets.  I will share some of those ideas later in the post, but we are going to focus on healthier options in our party posts.
(By the way, if you are hosting a kid's birthday party soon, share the theme and when the party is taking place on our Facebook page, and we will create a post tailored to you with at least 3 healthy, creative ideas for the party).
Peter Pan Birthday Party Food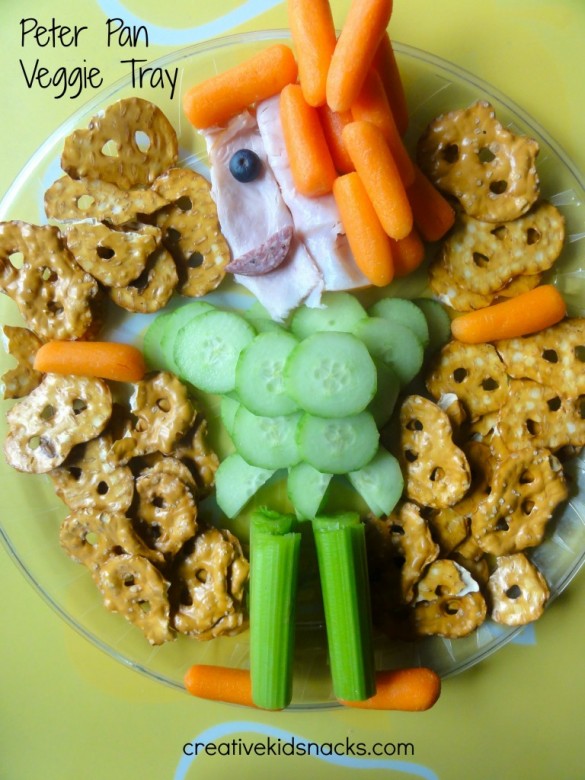 The kids will love to nibble on this Peter Pan Veggie Tray.  Layer cucumbers in the shape of a green shirt with points at the bottom, just like Peter Pan wears.  Add celery for his legs.  I have 3 celery sticks on top of each other in this tray.  Roll several slices of turkey for his face.  Now, give Peter some shoes, arms, and hair using baby carrots as shown.  Finish with a blueberry eye and a smile.  I used summer sausage.  A sure hit!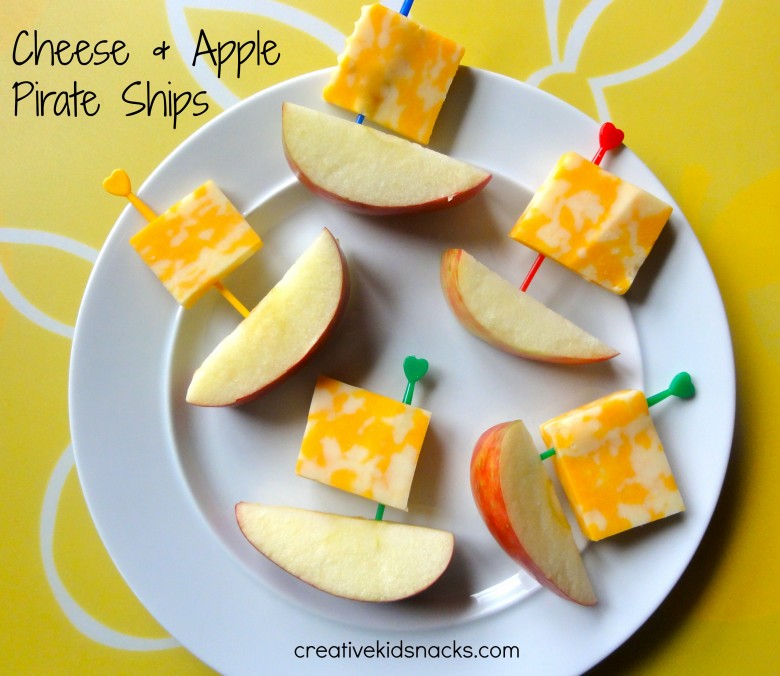 Another fun snack to put out at the party are these easy apple and cheese pirate ships.  Slice an apple, then use a plastic toothpick (I get mine from the dollar store), and push it through a slice of colby jack cheese to look like a sail.  Simple and delicious!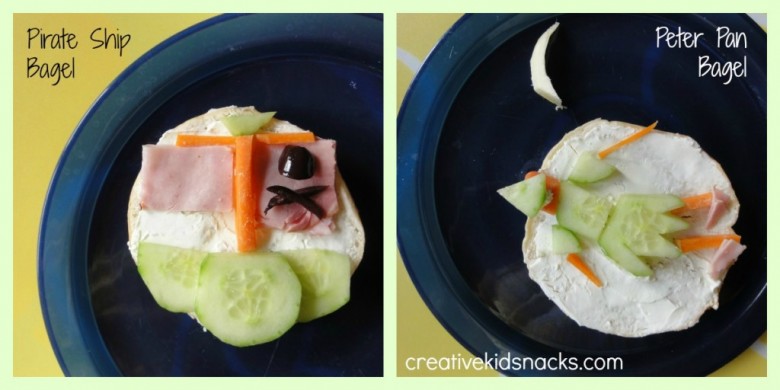 Try a "make your own bagel" station with sliced bagels covered with plain cream cheese.  Use cucumbers, thinly sliced carrots, ham, and olives to design your own pirate ship or Peter Pan bagel.
Not feeling adventurous enough to let the kids make their own during the party?  Serve this as lunch for your child the day before the party to build up the anticipation!
Place some pixie sticks in a mason jar and label them "Pixie Dust" – such an easy and cute idea!  You can try making your own by clicking the link in the caption or just buy some at the store.
More resources to plan a great Peter Pan Party:
Peter Pan Captain Hook Boy or Girl party via Kara's Party Ideas
Swoon: Peter Pan Party Reveal Part 1
Swoon: Peter Pan Party Reveal Part 2
Best of luck with the party, Deena!  Remember to head over to Facebook and share YOUR upcoming party theme with us!