The girls and I were thrilled to see some of our snacks featured on The Dr. Oz Show yesterday.
They did a small segment at the end of the show about how some moms are using "food art" or "healthy plate art" to encourage their kids to eat healthy foods.
These were the snacks created by us seen on the segment:
We also created two plates just for Dr. Oz as a thank you for sharing our snacks on the show:
The girls were really excited to put these together with me.  We got an official photo of Dr. Oz that we were working from.  We used his face for one plate and his logo for another.
Logo Snack:
Spread Greek Yogurt (2x the protein than regular yogurt and free from all that excess sugar) onto a plate.  Next, we sliced blueberries in half to allow them to lay flat in the yogurt and arranged them in the shape of the letters and the box that goes around them.  Finally, we used baby carrots thinly sliced to create the other words in the logo.
Dr. Oz's Face:
We laid a slice of provolone cheese onto the plate and added another piece on top of that for his nose.  Next, we used some leftover beef from last night's french dip sandwiches for his hair and his eyebrows.  To make his eyes, we used some Greek yogurt and blueberries.  For his mouth, we used watermelon and Greek yogurt.  The stethoscope is made out of blueberries (sliced in half to lay flat), carrots, watermelon, and an apple.
A nice, balanced plate for Dr. Oz!
*Note: Dr. Oz does not endorse anything, and no one is allowed to use his name or likeness to sell anything.  We are not selling anything or claiming that Dr. Oz endorses all of our snacks.  We are simply sharing our experience with being a part of the show.*
Tune in to The Dr. Oz Show next Wednesday morning to see the healthy plate segment.  If you missed it yesterday!
I'm going to share a little clip of Grace (my 5 year old) reacting when she saw our clip on TV on our FACEBOOK page.  It's so cute!
It's time for the Weekly Kids Co-op!
As moms, we are constantly on the lookout for great teaching tools and resources to use with our children.  I know I always benefit from seeing the creativity of others as they share lessons, activities, crafts, food, and more in their various blogs.  Mommy bloggers have become popular for a good reason: information is power.  Right, ladies?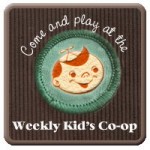 The Weekly Kids Co-op is one of my very favorite such resources.  I have been linking my snacks to this link party for months now, and I am excited to be able to co-host it here at Creative Kid Snacks.
If you are a blogger, link up your kid related posts to share with all of us eager beaver mommas.  If you are a mom, take some time to look through all of the great ideas for teaching and playing with our kids.  Pin what you love.  Like I said before, information is power!
This party will take place every Thursday at Creative Kid Snacks.  You will find it hosted on several other blogs, but the days the party goes live will vary from blog to blog.
Get ready for all the great ideas!  Link, share, and enjoy!