Here at Creative Kid Snacks, we are all about learning to LOVE eating healthy food.  Fruits and Vegetables are so important in everyone's diet, especially children.  One of the guiding forces for me as a mom is including a variety of healthy food in all of the creative snacks we make.  In honor of St. Patrick's day, but more so in honor loving healthy eating, let's build a rainbow!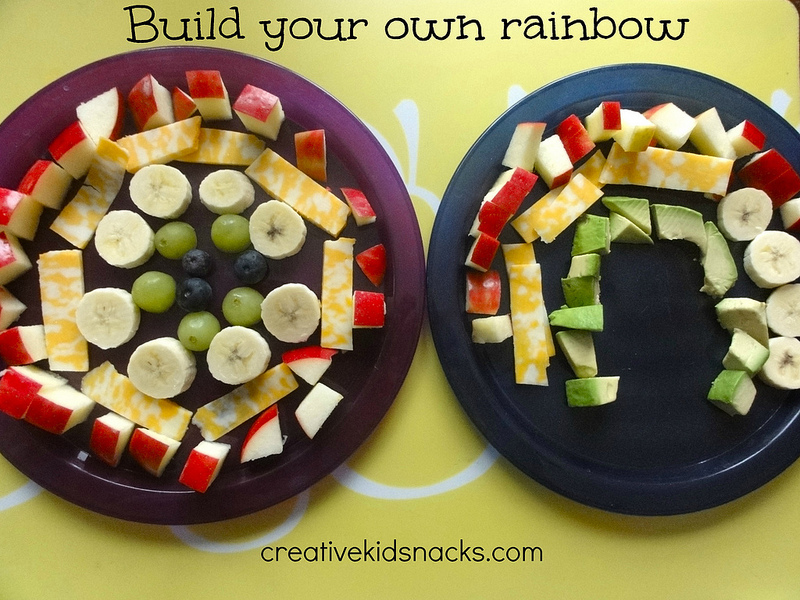 My girls loved today's snack!  It's simple, healthy, and a way for them to express their own creativity.  We also get to learn about what makes a rainbow!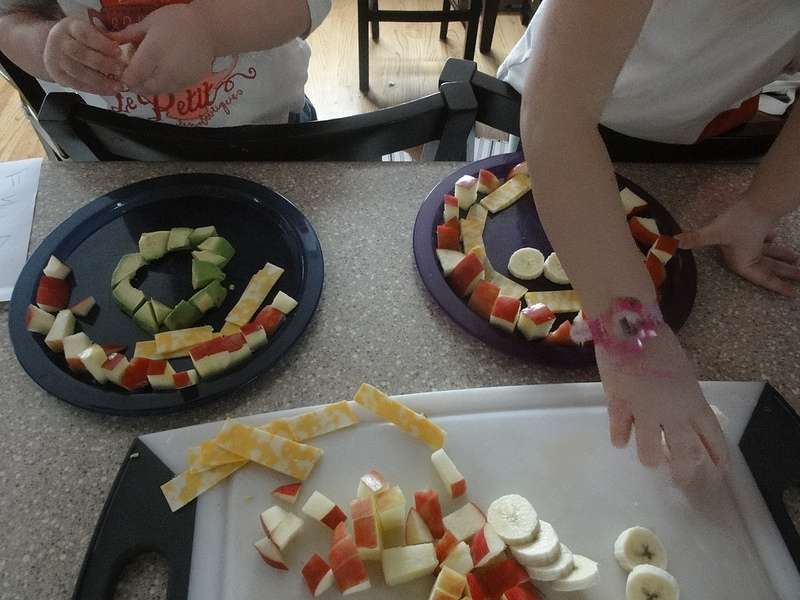 Prepare a variety of fruit and vegetables in every color of the rainbow.
Below are some ideas.
RED: apples, strawberries, raspberries, red bell pepper,cranberries
ORANGE: orange slices, carrots, orange bell pepper, cheese
Yellow: pineapple, yellow bell pepper, bananas
GREEN: green grapes, avocado, celery, sugar snap peas, green peas
BLUE: blueberries
PURPLE: red grapes, purple cabbage
Teach the colors of the Rainbow
As the kids get ready to make their rainbow, start with red, and have the kids pick their red fruit and lay it on their plate.  Tell them that their rainbow can be any design (an arch, a circle, a sqaure, etc.).  Then say that the next color after red is orange.  They will then put their orange food down next to the red.  Continue with yellow, green, blue, and purple.
Try new foods
If your child says she doesn't like avocado for a green food, for example, tell her to place at least one avocado into her green section.
Make it a contest to see who can find a new food to enjoy!
Read
We have an adorable book called "What Makes a Rainbow?".  This book would be great to read as a follow-up (or even before) this activity to reinforce what the kids are learning
Eat a Rainbow
I'm sure you've seen these awesome charts out there for kids to keep track of how many fruits and veggies they were able to eat in a day.  Creating and eating this snack will be a perfect way to score tons of healthy food points for the day!
Visit TodayIAteARainbow.com
More Rainbow Learning Activities to Try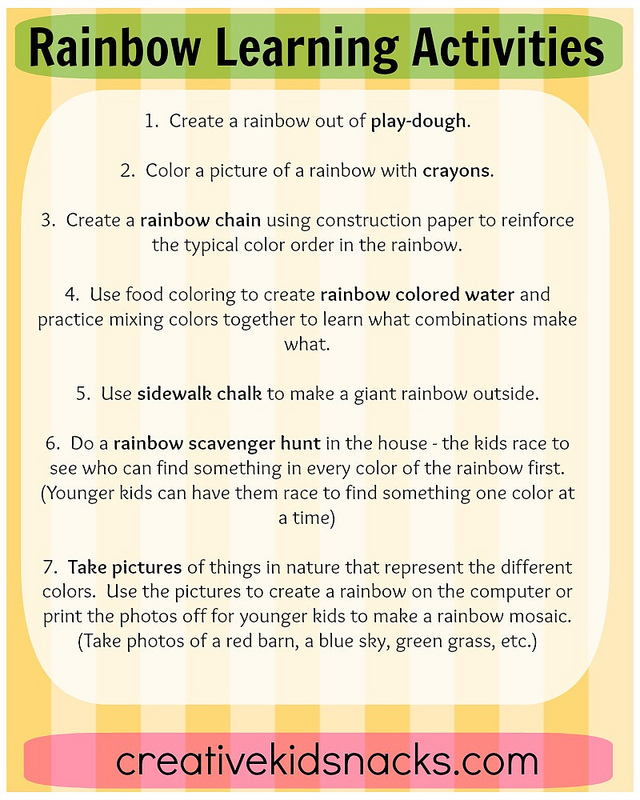 (Sharing HERE)
Did you enjoy today's snack?  Learn more about this blog here.
And now it's time for the Weekly Kids Co-op!
As moms, we are constantly on the lookout for great teaching tools and resources to use with our children.  I know I always benefit from seeing the creativity of others as they share lessons, activities, crafts, food, and more in their various blogs.  Mommy bloggers have become popular for a good reason: information is power.  Right, ladies?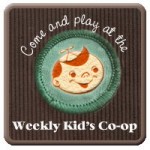 The Weekly Kids Co-op is one of my very favorite such resources.  I have been linking my snacks to this link party for months now, and I am excited to be able to co-host it here at Creative Kid Snacks.
If you are a blogger, link up your kid related posts to share with all of us eager beaver mommas.  If you are a mom, take some time to look through all of the great ideas for teaching and playing with our kids.  Pin what you love.  Like I said before, information is power!
This party will take place every Thursday at Creative Kid Snacks.  You will find it hosted on several other blogs, but the days the party goes live will vary from blog to blog.
Get ready for all the great ideas!  Link, share, and enjoy!